Do you need a competent contact person for securing your systems? Contact us.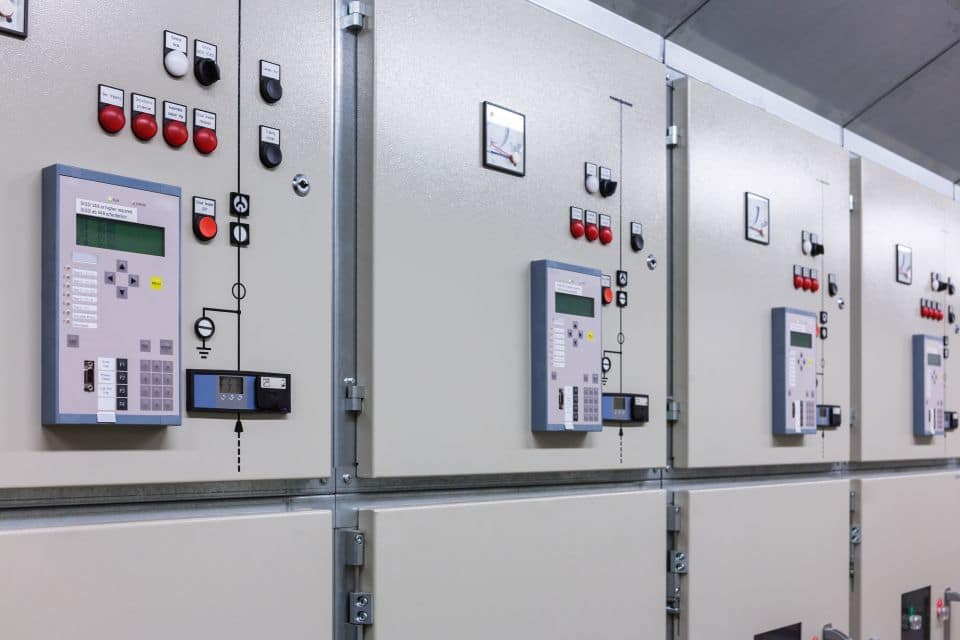 Protection technology is one of the most important planning tasks for power supply networks. The aim of protection technology is to detect errors and to switch them off quickly and selectively. On the one hand, this protects the system from thermal and mechanical loads and, on the other hand, the faulty line is switched off in a targeted manner. With the increasing penetration of DEA into the power grid, the operating behavior of the grid changes and represents a challenge for protection technology.
From the point of view of protection technology, each project is unique due to the different customer requirements and the different technical feasibility. As part of network protection planning, individual solutions are developed that meet the technical requirements and customer requirements.
The basis of the protection technology is the network calculation (short circuit and load flow calculation). An evaluation of the existing protection parameters is carried out on the basis of the network calculation and the existing protection settings. Measures for optimal protection coordination are then recommended. If necessary, a new protection concept will be developed.
For new networks or network expansions, a protection concept with the selection of the appropriate protective devices must be developed. As part of the drafting of the protection concept, the appropriate protection devices (protection devices, converters, fuses) are selected and the required protection functions are determined according to the ANSI code. Protection parameters are then recommended.
We calculate the protection parameters for devices from all manufacturers (Siemens, ABB, Schneider, AEG, Alstom, Sprecher,)
Evaluation and optimization of the existing protection concept and protection settings
Design of the protection concept for new systems and for network expansions
Selection of the appropriate protective devices for each equipment typical
Selection of the required protection functions according to the ANSI code
Calculation of the protection parameters of the protection devices for new systems and for network expansions.
Protection coordination of the low-voltage networks
Protection concept as part of the changeover to neutral point treatment
Generator protection
Motor protection
Transformer differential protection
Busbar protection
The stationary and transient transmission behavior of the current transformers are crucial to ensure reliable and safe protection technology. Especially for differential protection devices and busbar protection devices, a saturation-free current transmission of the transformer is important for proper functioning of the protection devices. When dimensioning the transformer, the protective cores of the current transformers are checked, taking into account the requirements of the protective devices, and measures are recommended if necessary.
Your competent contact for all aspects of protection technology
Fill out our contact form or give us a call. We will get to know your project in a non-binding initial meeting with our consulting experts.
Network protection concept for high and low voltage
The energy transition was initiated by people's environmental awareness. But here, too, safety comes first. Network protection concepts for high and low voltage are particularly necessary where electricity flows. One reason – the so-called decentralized power generation.
Energy transition and network protection concept
We at FYK – Power Engineering are your partner for secure electricity and the provider of our well thought-out, individually tailored network protection concept. We organize optimized network protection concepts for decentralized feed-in.
For many years, electricity flowed in one direction only – from central energy companies such as large power plants to the end consumer. This has now changed and is what makes high-quality, sustainable network protection concepts so important.
The FYK – Power Engineering network protection concept provides you with measures to protect your power network from the effects of faults such as short circuits and subsequent fires. With our network protection concept, you ensure that the defective part (load carriers, circuits, transformers, coils) is safely separated from the rest of the supply network. That gives security and creates trust.
Network protection concept for private households
As an environmentally and responsible household, do you have a photovoltaic system or a wind turbine? Then you are not only part of the energy transition, but also a decentralized power generator. Through you, the power grid in your region grows organically and continues to develop. You are taking a new direction with clean electricity. Not only are you independent of large electricity suppliers, you also become a supplier of sustainable energy yourself through the excess feed-in.
Network protection concepts that measure and protect in a direction-dependent manner, so to speak, are important to you. As a provider of a network protection concept, we offer you a safe and effective power feed into the electrical energy supply network. This means that you are a conscious part of a stable and reliable network operation.
Network protection concepts for companies
The idea of sustainability, efficient use of resources and state subsidies are good reasons why you, as a company, rely on your own, decentralized power generation . Solar modules on the flat roof of your warehouse, a PV system mounted on your open space or your own wind turbine provide you with electrical energy. Instead of accepting high costs for externally generated energy, you can now generate clean electricity yourself from sunlight or the power of the wind.
As soon as your accumulators are full and your production equipment is supplied, you sell the surplus energy and feed it into the public power grid. Our network protection concept for high and low voltage offers you the security of playing it safe in both load flow directions of this high voltage connection.
As a company, you protect the public networks on the one hand and your own on the other. As part of our network protection concept for high and low voltage, network protection devices measure the current via current transformers and the voltage via voltage transformers. If an error is displayed instead of normal operation, the defective component is separated from the rest. In this way you protect your production systems from electrical and thus financial damage. Your employees experience your appreciation through this security.
Network protection concept as an advantage for energy companies
As an energy company, did you previously only know load flows in almost one direction? This has changed due to the growing distribution of private electricity producers and their newly acquired self-image as decentralized and thus almost self-sufficient energy providers. The experts from FYK – Power Engineering are your providers of our sophisticated network protection concepts.
Its power grid supplies regions, federal states and states with the electricity that keeps hospitals running, lights schools, enables electric mobility and keeps private households warm and clean. They are therefore systemically relevant in the best sense of the word.
As a provider of competent network protection concepts for high and low voltage, we at FYK – Power Engineering ensure that your power grids continue to withstand faults without errors. Whether via voltage-dependent overcurrent excitation, voltage-independent overcurrent excitation or impedance excitation – individual triggers adapted to your power network activate the safety measures laid out in our network protection concepts.
To ensure that your network-dependent customers notice as little as possible of the disruptions, our network protection concept includes an automatic restart.
What does the FYK – Power Engineering network protection concept include?
We protect you from overvoltage in the power grid. Another main part is the protection technology. This ensures that neither people nor products are harmed. If overvoltage occurs, the system protects against technical and personal injury. There is only a message in the control room. The mistake is usually corrected quickly.
Our network protection concept is there so that the protection technology can intervene as quickly as possible. You therefore enjoy the fact that the stability of your transmission network is maintained.
Our concepts are individually tailored to each of our customers. The reason for this is that such a high protection selectivity can take place. In this way, the supply of unaffected users is ensured in the long term.
We rely on a fully automatic protection concept. The system reacts faster than any person. In doing so, we not only exclude the human factor, the employee also does not come into contact with powerful high voltage.